Look Who's Engaged! – Part 1
Posted on January 30, 2015 by Phillis Brooks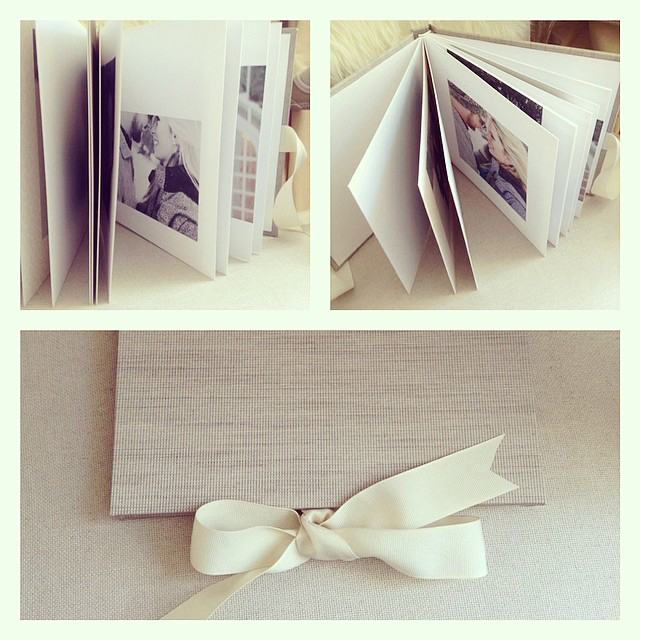 The Engagement Guest Book
As one very talented photographer put it:  "A guest book is your business card at a wedding or event. It gives you the ability to showcase your work to your target audience directly, while they are seeing you in action. Potential clients are able to interact with your work and get a feel for not only the quality of your photography, but of the products you offer. The engagement guestbook is a beautiful way to leverage the time and effort you have taken to create the engagement images into a marketing piece for you and a special keepsake for them. Seeing their retouched images in an album makes it easy to sell wedding albums, because they already see the value from their engagement. One of my engagement guestbooks by Phaloo is the Elegance collection with a canvas panel and bow enclosure with the metal linen."—Melanie Rebane, professional photographer
Melanie's work can be found at
It's important to remember that the guest book gives you the ability to showcase your work to potential new clients. Future clients are able to interact with the guest book. They see the style, quality and depth of your work.
Couples will always treasure their engagement photos in a printed form showcased in a custom album. It also makes them vested in their plans for their wedding photos and gets the conversation rolling about involving you in their special day.
We believe it's time for you to experience PhalooStudio — our amazing software program that streamlines and simplifies your photography workflow. Designed for professional photographers, PhalooStudio provides access to new products and fresh designs. We are a one-stop shop for your photo studio; simplifying client proofing, with a logical workflow, effortless product client matching, and anywhere any time access.
Here's what one satisfied client has said about Phaloo and our customer service:
"I have been a Phaloo customer since October 2014. Maryann, Vicki and Maria offer great customer service and are always available to answer any of my questions. As soon as we started offering the Flushmount Elegance Album to our customers, they have been a hit for signature books and family photo albums. The Phaloo Design Tool is very simple and easy to use. You can do anything from designing the layout and cover for your albums, to proofing and exchanging comments and notes about the album with your customer directly in the project which is a great time saver." —Caroline, www.photoluxstudio.com, Ottawa ON
"""""""""">"""""